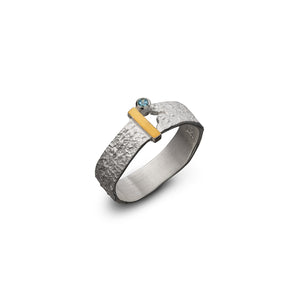 Gold in freshly fallen snow with gemstone
Dietmar Fröhlich has created a surface structure that looks like freshly fallen snow. The effect is enhanced by the white silver. The small gold bar and the gemstone makes this ring a delicate experience. The ring is part of the new collection: Little sweet things.
925 silver
2 mm light blue topaz or white topaz
whitened
Fine gold on silver
different sizes
stamped and signed
Please specify the ring size exactly.
Delivery time 6-21 days.