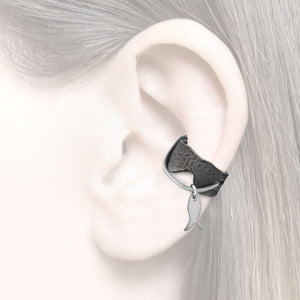 Earcuff the rustic one with little fish
This earring can be worn without an ear hole and holds by adapting to the shape of the ear. It is pushed onto the ear from above and held in the middle on the side of the ear. The open ring surrounds the entire cartilage. The earcuffs can be bought individually.
925 silver
blackened

small silver pendant with little fish

stamped


can be worn on both sides

the ear ornaments can be bought individually
the indicated price refers to the single piece
there are matching ear studs for these earcuffs
Delivery time 6-21 days.